We are raising RM15,000 with Kitarr's Cups from
18 Sept - 31 Oct 2021.
Update: RM8,296 raised as of 23 Oct 2021
1. Buy each cup at RM54 between 18th Sept and 31st Oct
Option to self pick-up at Seksyen 7, Petaling Jaya or get free shipping for purchase of 2 cups and above.
2. We will donate 100% of the profit equally on your behalf to:
• Weaving Hopes For The Future
• Refuge for the Refugees
• CoralKu Conservation
• Malaysian Animal Organization (SAFM)
• SESO
• Connect.ED
Share this with a friend if this interests you.
Weaving Hopes for the Future empowers Orang Asli youth and women to amplify their voices and participate in climate action. Funds will contribute towards exhibiting an art installation and creative storytelling co-produced by 11 indigenous women and youth to be displayed at COP26 in Glasgow.
Refuge for the Refugees brings essential aid to refugee communities throughout the pandemic. Funds will contribute towards supplying community health workers with test kits, oxygen concentrators, and ambulance services to assist refugees with critical health needs.
CoralKu Conservation focuses on enhancing coral reef health through ecosystem restoration, scientific research, and environmental consultancy. They have roughly 1000 coral fragments waiting on coral trees to be planted into a reef that needs to be restored on Pulau Lang Tengah, Terengganu.
Connect.ED is a social initiative aiming to provide second-hand laptops to underserved B40 students to enable their access to e-learning and digital upskilling.
SESO is a non-profit that combats food waste and food poverty by helping the B40 community and carrying out programs like the White Flag Food Aid Initiative and Feeding the Homeless.
SAFM is a non-profit advocating for animal rights and welfare to end animal cruelty. Funds will contribute towards animal food banks around Klang Valley.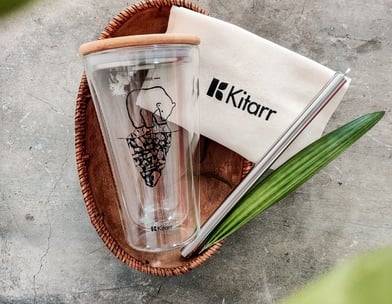 The world melts, and the man-made crap remain. "I guess this is the end," sighs Polar.
"F*ck You, Trash wave!" Armed with its middle finger, Turtle went charging into the tidal wave of trash, never to be seen again.
Hope is always there if you seek it. If there is a new beginning, what sort of world would you paint?
We'd like to hear from you!
Address
3, Jalan RU 7/1, Petaling Jaya, Selangor, Malaysia
Contacts
kitarr.my@gmail.com

© 2021 Kitarr Enterprise. All Rights Reserved.